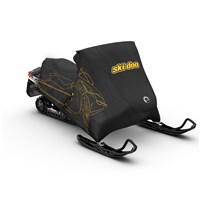 When you've either recently purchased a Ski-Doo or have had one for years, accessories can make your future rides much more functional, comfortable, and fun. Whether you use your Ski-Doo for manual labor, trail riding, competition, or a mix of these, we have the right accessories to equip on yours. Maybe you'd like to freshen your Ski-Doo appearance or upgrade a few performance parts. Maybe one of your wheels or slider shoes needs to be replaced. At CyclePartsNation, we offer what you need to make these changes to your Ski-Doo and so much more.
With an expansive selection like ours, you can shop must-have accessories in a variety of categories. Upgrade your Ski-Doo's skis, suspension, shocks, windshield, clips, and other crucial parts that can affect performance. Aren't liking the colors of your Ski-Doo anymore? Switch them up with our selection of colorful bumpers, wheels, decal kits, handguards, footrests, shock protectors, chassis reinforcement kits, skid plates, and other quality options. From cargo bags and glovebox extension kits, to gun boot racks and fuel caddies, bring along all the additional clothing, food, fuel, safety equipment, and spare parts you might need on your trip out in the powder. When you're ready to head home or back to camp, you'll need the right equipment accessories to trailer your Ski-Doo. Browse our selection of Superclamps, Deck Hooks, Superglide systems, Rap-Clip Covers, and Supertrac Kits. Other items included here include LED lights, action cameras, seats, vent kits, backrests, GPS systems, snowmobile learning keys, ice scratchers, and adjustable risers. You can find all that you need for your Ski-Doo to make it all your own. From aesthetics and performance to comfort and functionality, we stock everything Ski-Doo at fantastic prices not found elsewhere.
Let us be your hub for Ski-Doo accessories! Find all the best equipment for your Ski-Doo to make the next ride or season the best one yet. With hundreds of high quality options, we make it easy to quickly add what you need to your cart so you can get to installation as soon as possible. At CyclePartsNation, we truly have it all for Ski-Doo accessories!