Inventory
2023 Kawasaki VERSYS® 1000 SE LT+
2023 Kawasaki VERSYS® 1000 SE LT+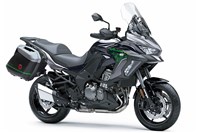 METALLIC GRAPHITE GRAY/METALLIC DIABLO BLACK/METALLIC FLAT SPARK BLACK
Specifications
POWER
Engine
4-stroke, 4-cylinder, DOHC, 16-valve, liquid-cooled
Bore x Stroke
77.0 x 56.0mm
Fuel System
DFI® with 38mm Keihin ETV throttle bodies (4)
Ignition
TCBI with electronic advance
Transmission
6-speed, return shift, Kawasaki Quick Shifter (KQS)
Electronic Rider Aids
Kawasaki Electronic Control Suspension (KECS), Integrated riding modes, Kawasaki Quick Shifter (KQS), Electronic cruise control and heated grips
Maximum Torque
75.2 lb-ft
PERFORMANCE
Front Suspension / Wheel Travel
43mm inverted fork with KECS-controlled rebound and compression damping, manual spring preload adjustability and top-out springs/5.9 in
Rear Suspension / Wheel Travel
Horizontal back-link New Uni-Trak®, BFRC gas charged shock with piggyback reservoir, KECS-controlled compression and rebound damping electronically-adjustable spring preload/5.9 in
Front Brakes
Dual 310mm petal-style discs with four-piston calipers, KIBS ABS
Rear Brakes
Single 250mm petal disc with single-piston caliper, KIBS ABS
DETAILS
Frame Type
Twin-spar aluminum
Overall Height
58.7 in/60.2 in (windshield down/up)
Curb Weight
566.7 lb (+ Saddlebags, Hand Guards, & Hardware approx. 20 lb.)*
Special Features
All-LED lighting including cornering lights, Multi-function TFT color LCD screen, Smartphone connectivity
Color Choices
Metallic Graphite Gray/Metallic Diablo Black/Metallic Flat Spark Black
Warranty
24 month limited warranty
Kawasaki Protection Plus™ (optional)
12, 24, 36 or 48 months
Features
TECHNOLOGY
Based on feedback from racing activities, the Assist & Slipper Clutch uses two types of cams (an assist cam and a slipper cam) to either drive the clutch hub and operating plate together or apart. Under normal operation, the assist cam functions as a self-servo mechanism, pulling the clutch hub and operating plate together to compress the clutch plates. This allows the total clutch spring load to be reduced, resulting in a lighter clutch lever feel when operating the clutch. When excessive engine braking occurs – as a result of quick downshifts (or an accidental downshift) – the slipper cam comes into play, forcing the clutch hub and operating plate apart. This relieves pressure on the clutch plates to reduce back-torque and helps prevent the rear tire from hopping and skidding. This race-style function is particularly useful when sport or track riding.
Late-model sport bikes often use large-bore throttle bodies to generate high levels of power. However, with large diameter throttles, when a rider suddenly opens the throttle, the unrestricted torque response can be strong. Dual throttle valve technology was designed to tame engine response while contributing to performance. On models with dual throttle valves, there are two throttle valves per cylinder: in addition to the main valves, which are physically linked to the throttle grip and controlled by the rider, a second set of valves, opened and closed by the ECU, precisely regulates intake airflow to ensure a natural, linear response. With the air passing through the throttle bodies becoming smoother, combustion efficiency is improved and power is increased.
Using high-precision electronic control for engine management, Kawasaki models can achieve a high level of fuel efficiency. However, fuel consumption is greatly affected by throttle use, gear selection, and other elements under the rider's control. The Economical Riding Indicator is a function that indicates when current riding conditions are consuming a low amount of fuel. The system continuously monitors fuel consumption, regardless of vehicle speed, engine speed, throttle position and other riding conditions. When fuel consumption is low for a given speed (i.e. fuel efficiency is high), an "ECO" mark appears on the instrument panel's LCD screen. By riding so that the "ECO" mark remains on, fuel consumption can be reduced. While effective vehicle speed and engine speed may vary by model, paying attention to conditions that cause the "ECO" mark to appear can help riders improve their fuel efficiency – a handy way to increase cruising range. Further, keeping fuel consumption low also helps minimize negative impact on the environment.
Electronic Cruise Control allows a desired speed (engine rpm) to be maintained with the simple press of a button. Once activated, the rider does not have to constantly apply the throttle. This reduces stress on the right hand when traveling long distances, enabling relaxed cruising and contributing to a high level of riding comfort.
Kawasaki's fully electronic throttle actuation system enables the ECU to control the volume of both the fuel (via fuel injectors) and the air (via throttle valves) delivered to the engine. Ideal fuel injection and throttle valve position results in smooth, natural engine response and the ideal engine output. The system also makes a significant contribution to reduced emissions. Electronic throttle valves also enable more precise control of electronic engine management systems like S-KTRC and KTRC, and allow the implementation of electronic systems like KLCM, Kawasaki Engine Brake Control, and Electronic Cruise Control.
Using the latest evolution of Kawasaki's advanced modeling software and feedback from a compact IMU (Inertial Measurement Unit) that gives an even clearer real-time picture of chassis orientation, KCMF monitors engine and chassis parameters throughout the corner – from entry, through the apex, to corner exit – modulating brake force and engine power to facilitate smooth transition from acceleration to braking and back again, and to assist riders in tracing their intended line through the corner. The systems that KCMF oversees vary by model, but may include: • S-KTRC/KTRC (including traction management and wheel lift management) • KLCM (including traction management and wheel lift management) - Designed to optimize acceleration from a stop • KIBS (including pitching management and corner braking management) • Kawasaki Engine Brake Control
KTRC, Kawasaki's advanced traction control system provides both enhanced sport riding performance and the peace of mind to negotiate slippery surfaces with confidence. Multiple rider-selectable modes (the number of modes varies by model) offer progressively greater levels of intrusion to suit the riding situation and rider preference. Less intrusive modes maintain optimum traction during cornering. Designed with sport riding in mind, they facilitate acceleration out of corners by maximizing forward drive from the rear wheel. And because Kawasaki's sophisticated software bases its dynamic analysis on the chassis' orientation relative to the track surface (rather than relative to a horizontal plane), it is able to take into account corner camber, gradient, etc., and adapt accordingly. In the more intrusive modes (and for some models, in any mode), when excessive wheel spin is detected, engine output is reduced to allow grip to be regained, effectively enabling riders to negotiate both short, slippery patches (train tracks or manhole covers) and extended stretches of bad roads (wet pavement, cobblestone, gravel) with confidence. Models equipped with IMU incorporate chassis-orientation feedback to offer even more precise management.
Models equipped with multiple Power Modes offer riders an easily selectable choice of engine power delivery to suit riding conditions or preference. In addition to Full Power mode, one (Low) or two (Middle, Low) alternate mode(s) in which maximum power is limited and throttle response is milder are provided.
Clever technology enables riders to connect to their motorcycle wirelessly. Using the smartphone application "RIDEOLOGY THE APP," a number of instrument functions can be accessed, contributing to an enhanced motorcycling experience. Vehicle information (such as the odometer, fuel gauge, maintenance schedule, etc) can be viewed on the smartphone. Riding logs (varies by model, but may include GPS route, gear position, rpm, and other information) can be viewed on the smartphone. When connected, telephone (call, mail) notices are displayed on the instrument panel. Riders can also make changes to their motorcycle's instrument display settings (preferred units, clock and date setting, etc) via the smartphone. And on certain models, it is even possible to check and adjust vehicle settings (such as Rider Mode, electronic rider support features, and payload settings) using the smartphone.
Designed to help riders maximize their acceleration on the track by enabling clutchless upshifts with the throttle fully open, KQS detects that the shift lever has been actuated and sends a signal to the ECU to cut ignition so that the next gear can be engaged without having to use the clutch. On models that offer clutchless downshifts, during deceleration the system automatically controls engine speed so that the next lower gear can be selected without operating the clutch.
Activating the Fuel Economy Assistance Mode switches the ECU to a leaner fuel map in which ignition timing and fuel injection prioritize fuel economy. Rather than engine response or power, this mode favors reduced fuel consumption, aiming to increase fuel economy when riding at a constant speed. When riding in areas where gas stations are scarce, or when cruising across the continent, being able to make the same amount of fuel last longer is a considerable benefit. Maximizing the effectiveness of the Fuel Economy Assistance Mode requires a gentle use of the throttle. Nevertheless, especially when used in conjunction with the Economical Riding Indicator, this mode can contribute to significant savings in fuel costs over long distances.
Kawasaki ABS systems use front and rear wheel sensors to constantly monitor wheel speed. Should information from either of the sensors indicate that wheel lock has occurred, the ABS ECU directs the pump in the ABS unit to modulate brake fluid pressure (releasing and reapplying pressure so that traction can be regained) until normal operation resumes. ABS offers rider reassurance that contributes to greater riding enjoyment.
A set of three LED lights built into each side of the fairing help illuminate the road when cornering at night. Each of the three lights has a fixed direction and is activated based on lean angle. As the bike leans over, the lights come on in order, creating a wider illuminated path in the direction the bike is heading.
Compared to the Kawasaki traditional Uni-Trak® rear suspension, which mounts the shock unit vertically, with Horizontal Back-link Rear Suspension, the shock unit is almost horizontal. The original Kawasaki suspension arrangement locates the shock unit very close to the bike's center of gravity, greatly contributing to mass centralization. And because there is no linkage or shock unit protruding beneath the swingarm, this frees up space for a larger exhaust pre-chamber (an exhaust expansion chamber situated just upstream of the silencer). With a larger pre-chamber, silencer volume can be reduced, and heavy exhaust components can be concentrated closer to the center of the bike, further contributing to mass centralization. The result is greatly improved handling. A secondary benefit is that the shock unit is placed far away from exhaust heat. Because it is more difficult for heat from the exhaust system to adversely affect suspension oil and gas pressure, suspension performance is more consistent.
KECS adapts to road and riding conditions in real time, providing the ideal amount of damping called for by electronically adjusting damping to suit vehicle speed and suspension stroke speed. Deceleration is also taken into account, which allows the system to help manage pitching that may occur during braking. Control via solenoid valve with direct actuation enables an extremely quick reaction time, making KECS ideal for sport riding applications, where natural feeling is crucial to feeling at one with the bike. Built-in stroke sensors on both the fork and rear shock provide real-time stroke speed and compression information. Input from the sensor coils to the KECS ECU is complemented by information provided by the IMU (acceleration/deceleration) and the FI ECU (vehicle speed). The KECS ECU then directs current to the solenoids to adjust damping as required by the situation. Selectable modes allow riders to choose softer or firmer base settings.
Kawasaki developed KIBS to take into account the particular handling characteristics of supersport motorcycles, ensuring highly efficient braking with minimal intrusion during sport riding. It is the first mass-production brake system to link the ABS ECU (Electronic Control Unit) and engine ECU. In addition to front and rear wheel speed, KIBS monitors front brake caliper hydraulic pressure, throttle position, engine speed, clutch actuation and gear position. This diverse information is analyzed to determine the ideal front brake hydraulic pressure. Through precise control, hydraulic pressure is modulated in much smaller increments than with standard ABS systems. The system limits rear wheel lift under heavy braking and takes downshifting into account while braking, allowing the rider to manage the rear brake. And because of the finer control, kickback to the brake lever is minimal, resulting in a very natural feeling.
The strength of Kawasaki's cutting-edge electronics has always been the highly sophisticated programming that, using minimal hardware, gives the ECU an accurate real-time picture of what the chassis is doing. Kawasaki's proprietary dynamic modeling program makes skillful use of the magic formula tire model as it examines changes in multiple parameters, enabling it to take into account changing road and tire conditions. The addition of an IMU (Inertial Measurement Unit) enables inertia along 6 DOF (degrees of freedom) to be monitored. Acceleration along longitudinal, transverse and vertical axes, plus roll rate and pitch rate are measured. The yaw rate is calculated by the ECU using Kawasaki original software. This additional feedback contributes to an even clearer real-time picture of chassis orientation, enabling even more precise management for control at the limit. With the addition of the IMU and the latest evolution of Kawasaki's advanced modeling software, Kawasaki's electronic engine and chassis management technology takes the step to the next level – changing from setting-type and reaction-type systems to feedback-type systems – to deliver even greater levels of riding excitement.
All inventory listed is subject to availability and prior sale. Manufacturer's Suggested Retail Price (MSRP) if shown for a vehicle excludes set-up, freight, taxes, title, licensing or other dealer charges, and is subject to change. Individual prices may vary. Please request a quote for specific pricing.